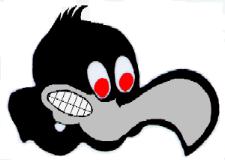 Welcome to the Houston Chapter of the Buzzard Club of America webpage. The Buzzard Club of America is a USBC Sanctioned Bowling Club that usually meets the second Sunday of every month for a few hours of bowling fun. The club bowls at a different bowling establishment every month, which provides a challenge of different lane conditions and a variety of places to bowl.
To qualify for the club, one must bowl three splits in a row in sanctioned bowling play and be signed up and voted in by the membership. If you qualify, an official Buzzard Club Application must be submitted along with a copy of the game containing the qualifying three splits, and be sponsored by a current member. For a copy of the application, click on the icon below or click here. There are a number of different "Chapters" of the club, with groups in Houston, San Antonio, Tyler, Conroe, Irving, and (2) two in Dallas, Texas. There are also chapters in Hot Springs and Fort Smith, Arkansas. We have an "Annual Buzzard Club Tournament" each year with a different chapter alternating as host for the tournament.
Monthly Gathering News
The February, 2018 Gathering of the Houston Chapter of the Buzzard Club will be held at Tomball Bowl, 14435 FM 2920, Tomball, Texas on February 11, 2018. The meeting begins at 1:00 PM, and the bowling begins at 2:00 PM, so make sure you get there a little early to sign up for any side brackets, card games and/or the pins over/under brackets. You must be signed up to bowl by 1:30. Remember, bowling will begin at 2 PM. Also, remember to invite your friends to come and bowl as a pacer. They just might qualify to become a buzzard and become a permanent member.

Member News

Our thoughts and prayers are with all of our members who are currently recovering from various surgeries and treatments, and also to those who have recently lost loved ones.

Download Application for Buzzard Club Membership (9 kb)
---
Web Counter
says you are visitor number

to visit our website.
---
This website is maintained by Pete Harvey
Any problems should be reported by clicking here: Webmaster